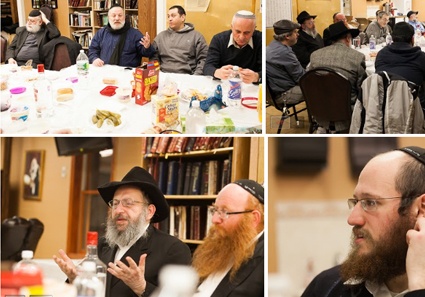 On a cold snowy evening on Yud Sh'vat (10th of Sh'vat), Chabad of Flatbush welcomed the members of their community into their warm synagogue, where they hosted a Farbrengen. People made l'chaims, and celebrated the day that marked the leadership of our Rebbe, The Lubavitcher Rebbe. Rabbi Zalman Liberov, and Rabbi Chanoch Chaskind invited a worldwide notable scholar, and lecturer, Rabbi Sholom Jacobson.
Reb Sholom Jacobson is dedicated, for almost four decades, in Vaad L'Hafotzas Sichos, disseminating the 'Likkutei Sichos' (talks and works) of the Lubavitcher Rebbe. He also oversees the world-wide Tanya printing project. Rabbi Jacobson lectures on Chassidic topics in various forums, nationally and internationally. His talks are featured in audio on several websites.
Rabbi Jacobson spoke about the time when the chassidim wanted the Rebbe to be the next Rebbe after his father in law's passing until the Rebbe had accepted. He explained Basi L'Gani, which some consider the acceptance speech of the Rebbe's Leadership. He shared many stories of the Lubavitcher Rebbe, and had the crowd very interested.
Many stories where shared, and many niggunim were sung, and after this farbrengen the crowd had already warmed up from this wonderful farbrengen to the point where the cold weather outside did not affect them. Well maybe it was cold, but Chabad of Flatbush always serves as a warm home for every single Jewish person in the community.