A Great Lag B'omer Parade in Flatbush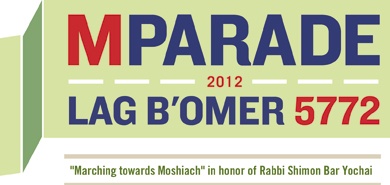 Following the great success we had on Lag B'omer 3 years ago Chabad of Flatbush decided to aim high this year and create a Lag B'omer Parade like never before, hoping to attract all the Jewish children from the area.
It will be a 10 car parade which will travel around the neighborhood led by some floats and a truck with music and fire, balancing & sword swallowing show ● The main event will take place on Kings Highway and smaller events around town. More details
The Next Generation Is Taking Over - Pictures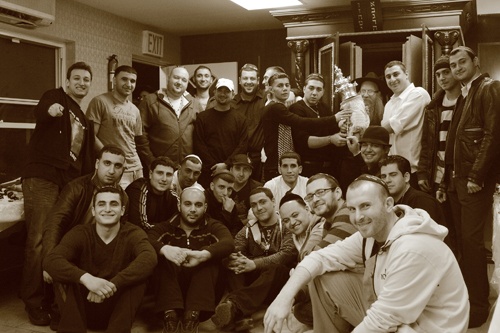 Several years ago David Batarashvilli passed away in a tragic accident. His friends, the young generation of Flatbush Jewry, commemorated his Yohrtzeit with a Shiur in his memory, which took place at the Chabad House.
This group has also taken the initiative and donated a beautiful crown for the new Avraham Dovid Sefer Torah.
More pictures
A taste from ChabadFlatbush.org...

"standing at the end of exile"

We are actually standing at the end of exile, soon, soon the Redemption will come; the world and the nations prepare and assist the way to Redemption, as explained in detail; to increase in "our actions and Divine service," specifically learning Torah in matters of Redemption.

Read More

Too Good to be True
At a chassidic get-together (farbrengens) held in the early years of Chabad chassidism, Reb Shmuel Munkes was doing the honors. The merry chassid danced about the participants, pouring the vodka and... Read More
Shabbat: Pirkei Avot program

For: Women | Time: 5:30pm
Location: By Mrs. Ronit Rachamian, 1530 E. 18th St. #4B
(Bet. Ave O & P)

For more information contact:
Mrs. Susan Naim -718-382-6804 | susy7700@gmail.com

Daily Chitas (Portion of Chumash, Tanya, Sefer Hamitzvot)
In memory of Avraham Dovid A"H Liberov

For: Women | Time: 10:00am - 11:00am
Location: By Mrs. Chani Liberov, 1369 East 31st St.
(Bet. Avenues M & N)

For more information contact:
Mrs. Chani Liberov - 718-758-9441

Monday : Tanya Class with Rabbi Yossi Paltiel

For: Men & Women | Time: 8:45pm - 10:00pm
Location: Chabad House, 1923 Ocean Ave.
(Bet. Avenues N & O)

For more information contact:
Chabad of Flatbush - 718-252-9770 | info@ChabadFlatbush.org

שני: פרשת שבוע בעברית - דבר מלכות
לע"נ אברהם דוד ע"ה ליבעראוו

For: Women | Time: 9:00pm - 10:00pm
Location: By Mrs. Chani Liberov, 1369 East 31st St.
(Bet. Ave M & N)

For more information contact:
Mrs. Chani Liberov - 718-758-9441

Tuesday:Moshiach Class with Rabbi Zalman Liberov

For: Men | Time: 8:00pm - 9:00pm
Location: Chabad House, 1923 Ocean Ave.
(Bet. Ave N &O)

For more information contact:
Chabad of Flatbush-718-252-9770 | info@ChabadFlatbush.org

This week the Shiur will be on Tuesday:
Women's circle with Mrs. Rachel Chitrik

For:Women | Time: 9:00pm
Location: By Mrs. Lillian Eliezer at 1771 E. 10th St.
(between Kings Hwy & Ave R)

For more information contact:
Mrs. Susan Naim - 718-382-6804 | susy7700@gmail.com