100's of children heard the Ten Commandments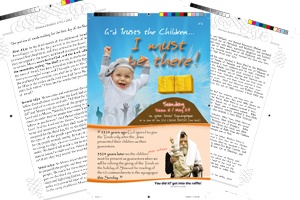 Hundreds of children heard the Ten Commandments during Chabad's Six (!) Ice Cream Parties around the Flatbush area, sponsored partly in memory of Yehuda Voichik A"h.
In honor of the event, Chabad printed a booklet with the Ten Commandments in three languages, Hebrew, English and Russian, and the Rambam's introduction in English.
The booklet called upon all children to heed the Rebbe's request and come to hear the Ten Commandments at Chabad's Ice Cream Parties.17,000 copies were distributed in Flatbush, sponsored by The Print House and Mr. Heshy Korenblit.
"Sudden" Farbrengen
A special Farbrengen will take place Shabbos after Mincha in honor of the 12th of Sivan, the conclusion of the Shavuos season.
A taste from ChabadFlatbush.org...

Hour when Moshiach comes

All matter of Divine service have already been completed, also "polishing the buttons" has been been complted, and we stand ready to greet Moshiach; this year the words of the Yalkut Shimoni, "the year that the king Moshiach will be revealed all the nations of the world will provoke each other...

Read More

Shabbos - "Before and After"

The Torah portion Naso is commonly read on the Shabbos following Shavuos. Since the festivals are related to the Torah portions in whose time they... Read More
Shabbat: Pirkei Avot program
with Mrs. Miryam Swerdlov

For: Women | Time: 5:30pm
Location: By Lidia Zisu, 2807 Kings Highway #1F
(Bet. East 28 & East 29 St.)

For more information contact:
Mrs. Susan Naim -718-382-6804 | susy7700@gmail.com

Daily Chitas (Portion of Chumash, Tanya, Sefer Hamitzvot)
In memory of Avraham Dovid A"H Liberov

For: Women | Time: 10:00am - 11:00am
Location: By Mrs. Chani Liberov, 1369 East 31st St.
(Bet. Avenues M & N)

For more information contact:
Mrs. Chani Liberov - 718-758-9441

Monday : Tanya Class with Rabbi Yossi Paltiel

For: Men & Women | Time: 8:45pm - 10:00pm
Location: Chabad House, 1923 Ocean Ave.
(Bet. Avenues N & O)

For more information contact:
Chabad of Flatbush - 718-252-9770 | info@ChabadFlatbush.org

שני: פרשת שבוע בעברית - דבר מלכות
לע"נ אברהם דוד ע"ה ליבעראוו

For: Women | Time: 9:00pm - 10:00pm
Location: By Mrs. Chani Liberov, 1369 East 31st St.
(Bet. Ave M & N)

For more information contact:
Mrs. Chani Liberov - 718-758-9441

Tuesday:Moshiach Class with Rabbi Z. Liberov

For: Men | Time: 8:00pm - 9:00pm
Location: Chabad House, 1923 Ocean Ave.
(Bet. Ave N &O)

For more information contact:
Chabad of Flatbush-718-252-9770 | info@ChabadFlatbush.org

Women's circle with Mrs. Rachel Chitrik

For:Women | Time: 9:00pm
Location: Mrs. Susan Naim at 1531 East 17th St.
(between Avenues O and P)

For more information contact:
Mrs. Susan Naim - 718-382-6804 | susy7700@gmail.com
L'Refua Shleima


Please say Tehilim L'Rfuat:


Dvorah Chana Bat Sara
Binyamin Nachum Ben Leah
David Ben Sara Yocheved
Credit Card:
Visa, Master Card,
AmEx, Discover
Click Here
PayPal:
Click Here
By Mail:
Chabad of Flatbush
1923 Ocean Ave.
Brooklyn, NY 11230
By Phone:
718-252-9770