Challah Baking Workshop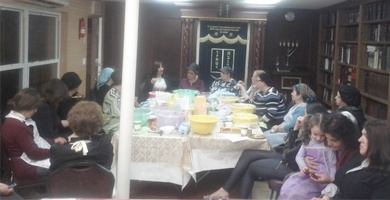 This past Thursday the Chabad House hosted the monthly Challah Baking Workshop. It was beautifully organized by Mrs. Alina Morzdov. There were many additional participants this time.
The participants made their own Challah and heard inspiring words from Mrs. Chanie Liberow about the 28th of Nissan and the great importance of everyone doing all they can to bring about the revelation of Moshiach. Click here to see more pictures
The Weekly Pirkei Avot Shiur is back
It is customary to learn a chapter from Pirkei Avos every Shabbos afternoon of the summer Shabbosim.
Pirkei Avos is a collection of tips for life, which encompass the brilliant ideas of the Torah scholars and their students. Over the course of 40 years the Rebbe explained these lessons in depth, showing us the deeper meaning behind seemingly obvious and common-sense ideas.
The Shabbos afternoon Shiur for women is back. Come discover how these lessons can make your life more meaningful and enjoyable.
This coming Shabbat (Tazria-Metzora) the Shiur will be hosted by Tziona Hadari at 1916 E. 29th St., between Avenues S and T at 5:30pm. The speaker is Mrs. Chani Lieberov
Stay Tuned for our Lag BaOmer activities
Lag Ba'omer is a few weeks away, and with it comes the annual bonfire and the children's parade.
Make sure you stay informed of these activities, and all other Chabad House activities, by reading the emails we send you...
A taste from ChabadFlatbush.org...

All the appointed times have ended

With the conclusion of the month of Nissan, 5751, "all the appointed times have ended" in the true literal sense; Moshiach is found in the world in the time and place of exile and anticipates revealing himself; "the house of study of Rabbi Shila said Shilo is his name, etc." and we Chassidim answer...

Read More

Moshaich in the Parsha
Having children, which is discussed in this week's Parsha, is one of three very special things. These things are special because they are the only three things which man needs, that Hashem Himself looks after and has not given to angels... Read More
Daily Chitas (Portion of Chumash, Tanya, Sefer Hamitzvot)
In memory of Avraham Dovid A"H Liberov

For: Women | Time: 10:00am - 11:00am
Location: By Mrs. Chani Liberov, 1369 East 31st St.
(Bet. Avenues M & N)

For more information contact:
Mrs. Chani Liberov - 718-758-9441

Monday : Tanya Class with Rabbi Yossi Paltiel

For: Men & Women | Time: 8:45pm - 10:00pm
Location: Chabad House, 1923 Ocean Ave.
(Bet. Avenues N & O)

For more information contact:
Chabad of Flatbush - 718-252-9770 | info@ChabadFlatbush.org

שני: פרשת שבוע בעברית - דבר מלכות
לע"נ אברהם דוד ע"ה ליבעראוו

For: Women | Time: 9:00pm - 10:00pm
Location: By Mrs. Chani Liberov, 1369 East 31st St.
(Bet. Ave M & N)

For more information contact:
Mrs. Chani Liberov - 718-758-9441

Tuesday: Moshiach Class with Rabbi Zalman Liberov

For: Men | Time: 8:00pm - 9:00pm
Location: Chabad House, 1923 Ocean Ave.
(Bet. Ave N &O)

For more information contact:
Chabad of Flatbush-718-252-9770 | info@ChabadFlatbush.org

Wednesday: Women's circle with Mrs. Rachel Chitrik

For: Women | Time: 9:00pm
Location: Mrs. Susan Naim at 1531 East 17th Street (between Avenues O and P)

For more information contact:
Mrs. Susan Naim - 718-382-6804 | susy7700@gmail.com

NEXT Shabbat: Pirkei Avot program

For: Women | Time: 5:30pm
Location: By Mrs. Ronit Rachaimim, 1530 E. 18th St. #4B
(Bet. Ave O & P)

For more information contact:
Mrs. Susan Naim -718-382-6804 | susy7700@gmail.com
L'Refua Shleima


Please say Tehilim L'Rfuat:


Dvorah Chana Bat Sara
Binyamin Nacum Ben Leah
David Ben Sara Yocheved
Credit Card:
Visa, Master Card,
AmEx, Discover
Click Here
PayPal:
Click Here
By Mail:
Chabad of Flatbush
1923 Ocean Ave.
Brooklyn, NY 11230
By Phone:
718-252-9770